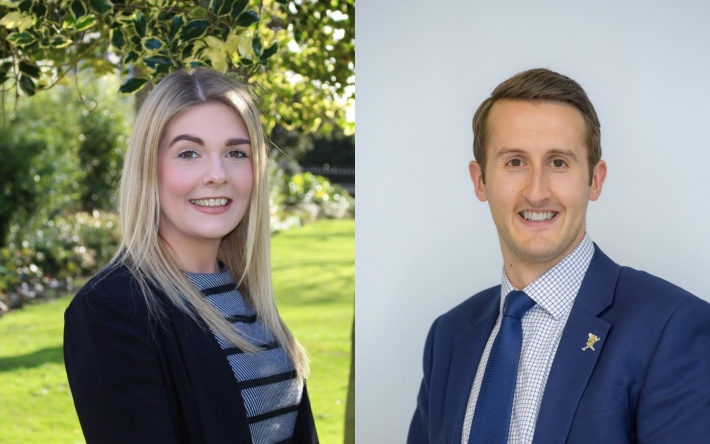 29 May 2018
Two of our chartered accountants have been named as ones to watch after making it onto a list of 2018's Top 100 Young CAs. Richard Stephenson, senior audit and accounts manager with Hall Morrice LLP, and Melanie Gilmour, manager at Hall Morrice Corporate Finance, both appear on the list compiled by The Institute of Chartered Accountants Scotland (ICAS).
The professional body has compiled the roll call of the industry's rising stars from thousands of young CAs based across the UK. The finalists were selected based on their ambition, dedication and pure talent.
Richard (31) was singled out because of his commitment to his own professional development, while also working closely with Hall Morrice's intake of graduates and students to help them progress in their own careers.
He decided to leave a career with one of the accountancy world's Big 4 firms to work for Hall Morrice, believing that a mid-tier firm would enhance his aspirations to reach partner level. He was soon identified as an exceptional motivator, encouraging both his colleagues and his extensive portfolio of clients to strive for excellence.
Melanie (29) helped to establish Hall Morrice Corporate Finance when the company was launched in April 2017. In addition to her technical ability, judges noted that she has risen to the challenge of taking on responsibilities far beyond the level of her peers.
In addition to taking on ownership of transactions from start to finish, Melanie has had to focus on growing the start-up as part of a small two-man team, working on brand and business development to get it off the ground.
Hall Morrice partner Shonagh Fraser said the firm and colleagues were thrilled at Melanie's and Richard's success. She added: "To have one member of staff identified as being one of the best young CAs in the country would be a significant achievement, but to have two is incredible.
"Both Richard and Melanie have technical skills of the highest calibre, but what singled them out was how they go above and beyond for their clients. They are proving that accountancy is not just about numbers: they understand that they need to build solid relationships with their clients and appreciate and react to the needs of each business.
"It's very much the Hall Morrice ethos that we don't simply tick a box: Melanie and Richard uphold the belief that as an accountant you should be there to help steer your client, developing strategy on how to improve financial performance and problem solving where necessary."
Judges in the Top 100 Young CAs 2018 were inundated with entries from those working both in the accountancy profession and various industries. Award winners represent accountancy, entrepreneurs and those working in business transformation.
Both Richard and Melanie will have the opportunity to attend the Young CAs summit taking place on June 21, where the overall winner of the ICAS One Young CA 2018 award will be announced.
← Back to News & Articles