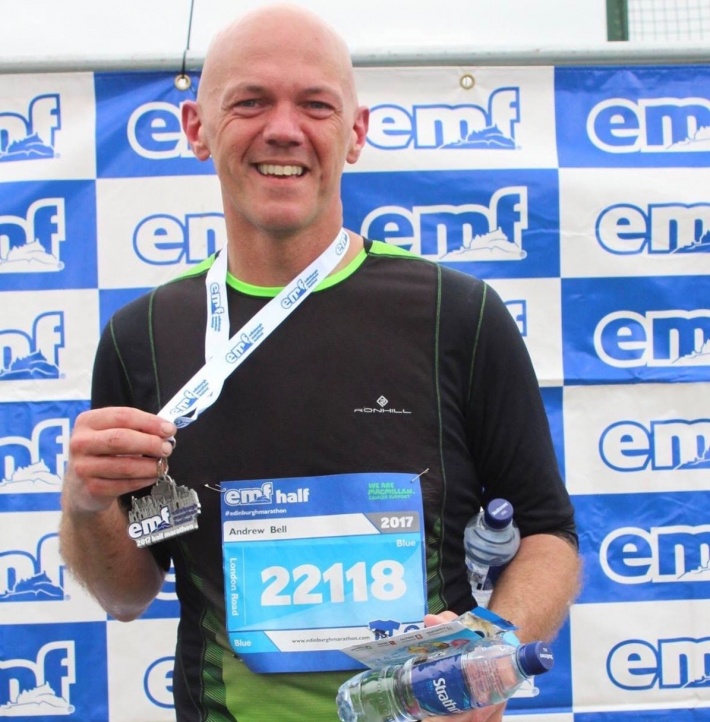 19 April 2018
As a corporate tax manager with Hall Morrice, Andy Bell is used to working with complex figures on a day to day basis. But there will only be one number on his mind this weekend – the 26.2 miles of the London Marathon.
And as he counts down the miles while passing the landmarks of the capital, Andy will have a very special reason for making sure that he goes the distance towards the finish line. He will be running in aid of the MS Society as a thank-you for the support given to his family over the years.
His mother, Jenny, was diagnosed with multiple sclerosis in the early 1990s and has amazed everyone with her grit and determination not to be beaten by the condition. Andy and his family have leaned on the MS Society for help and advice.
Andy has been able to raise almost £2,000 for the charity and hopes that the figure will increase further once he completes the challenge of running one of the world's best-loved marathons on Sunday (April 22).
"I've run a couple of half marathons over the last year and a half, but this is my first attempt at a full marathon and I cannot wait to get out on the course," said Andy, from Huntly. "I wanted to run for a charity that meant something to me, so the MS Society was a natural choice.
"My mum has been living with MS since the early 1990s and has coped with it incredibly well. She has not had a relapse in quite a few years, but the MS Society has been a great place for me and the rest of my family to turn to for advice and to help in understanding what she is going through."
His mum, who lives in Lincolnshire, will be among the group of family and friends who will travel to London to support him as he runs around the course. He is chasing a time of around four hours but fears his target may be hampered by the weather conditions as the temperature is expected to hit 22ºC.
"I've trained for the marathon in the Scottish winter, so I think the weather conditions might prove a challenge for me," said Andy.
"We have had a long winter, but there was only one day when I was not able to get outdoors to run. I've been doing most of my training around the forests of Huntly, so even with the snow, I was still able to run because it was reasonably sheltered and soft.
"I've always thought I was capable of completing the marathon in around four hours, but the time isn't really important. I just want to be able to say that I have completed the course, that I enjoyed it and was able to raise funds for the MS Society.
"The last few weeks of tapering down have been quite hard as I have been running so much in training over the last few months, so I cannot wait to get out there and run. I then go off on holiday almost immediately afterwards during which I intend to do a lot of putting my feet up and recuperating."
Andy has set up an online fund-raising page for his efforts in aid of the MS Society. Anyone who would like to sponsor him should click here
← Back to News & Articles