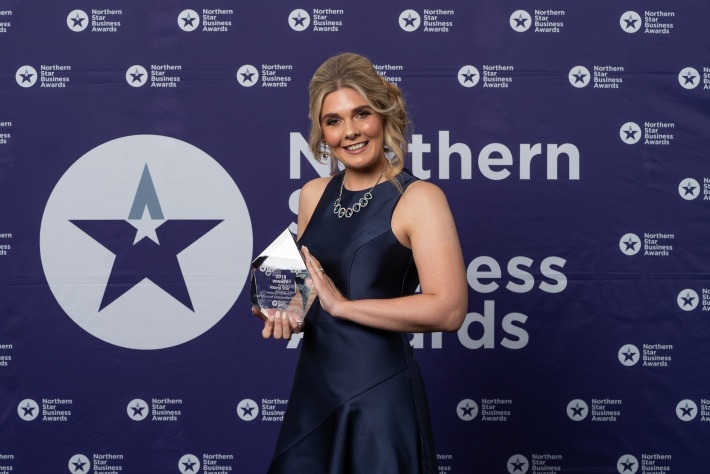 1 October 2018
Hall Morrice Corporate Finance assistant director Melanie Gilmour has been named the brightest future business talent in north east Scotland. Melanie, who was crowned Accountant of the Year in the Scottish Accountancy and Finance Awards just a few months ago, took the Rising Star award at the Northern Star Business Awards.
The awards are organised by Aberdeen and Grampian Chamber of Commerce and celebrate businesses of all shapes and sizes. The Rising Star category, one of the main awards of the night, aims to showcase individuals who are destined for great things and are making a significant impact on their organisation.
Melanie was responsible for launching HMCF along with managing director Tom Faichnie and has been pivotal to the ongoing success of the firm. She has played a fundamental role in developing both the business and the brand, acting for clients on a series of transactions in a range of different industries.
Tom said: "Everyone at HMCF and Hall Morrice is absolutely delighted for Melanie as this award is so well deserved. It is for those who make a significant impact on their organisation, and without Melanie's input HMCF would not have grown as quickly as it has.
"She has been critical to so many transactions over the past 18 months, and I have a file full of glowing feedback from clients who have been incredibly impressed by Melanie and the way that she has handled their work.
"Although she has been named a rising star, it is fair to say that she is already established and making a huge impact on the corporate finance sector."
In addition to being named Accountant of the Year, Melanie was placed, along with Hall Morrice senior audit and accounts manager Richard Stephenson, in the ICAS One Young CA 2018 list, which identifies the best and brightest accountancy talent.  
← Back to News & Articles