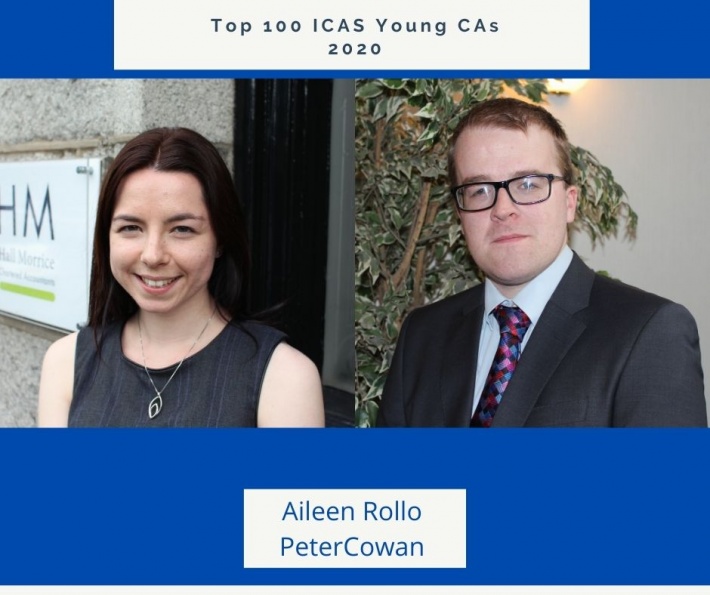 26 August 2020
Two of our accountants have been named in the annual Institute of Chartered Accountants Scotland (ICAS) Top 100 Young CAs.
Peter Cowan and Aileen Rollo have been recognised on the 2020 list which is compiled following a global competition. The ICAS Top 100 Young CAs recognises the brightest and best in the accountancy, finance and business world.
For Hall Morrice, this is the third consecutive year that our young CAs have reached the Top 100. Peter and Aileen are the latest, following three of their peers in 2019 and two in 2018.
Aileen and Peter have been selected in this year's list after an anonymous and rigorous judging process focused on finding young professionals who are outstanding in their field.  CAs were nominated in three categories – technology, trust and talent.
Aileen Rollo (26), assistant manager, was nominated in the talent category. Beginning her career with us on a university placement, Aileen then took up her place as a trainee. Beginning in the audit and accounts team, Aileen's talent and aptitude for business advisory was clear from day one and, for the first time ever, our tried and tested graduate scheme was restructured specifically to harness her talent and drive and to give her experience within this team.
Colleague Peter Cowan (27), manager was also successful in the talent category, described by his managers as efficient, incredibly accurate and possessing natural ability and excellent technical skills. Peter's promotion from senior analyst to manager was a reflection of the confidence that Hall Morrice partners have in his abilities. Peter used to juggle his full time CA role with a hands-on role at his family's dairy farm. This experience is credited with giving him the aptitude to grasp quickly what is important to a business both from an accountancy and a management viewpoint.
Both Peter and Aileen now mentor other young CA students at Hall Morrice.
Shonagh Fraser, partner at Hall Morrice who also has responsibility for recruitment and talent says, "Aileen and Peter have rightly been recognised as leaders in the field of young CAs from both industry and general practice. For us all at Hall Morrice this is a wonderful acknowledgement of our collective dedication to training and professional development. We've always put great emphasis on the importance of this, and with this being our third year of having some of the world's top Young CAs on our team, it demonstrates the value to a practice of our size and scope of investing significantly in all of our talent, but particularly in our young talent."
ICAS Chief Executive, Bruce Cartwright CA, said: "I would like to congratulate all of the exceptional CAs who made it on to this year's Top 100 Young CAs list. It is a great achievement to make it onto the list and it presents a wonderful chance for these talented young CAs to be recognised by their peers. This year's awards take place against a backdrop of the Covid-19 pandemic. The world will need accountants, of all ages, experience and diversity of background, as we navigate the challenging economic and personal impact of this crisis.
Read more about the Top 100 ICASs Young CAs. 
← Back to News & Articles