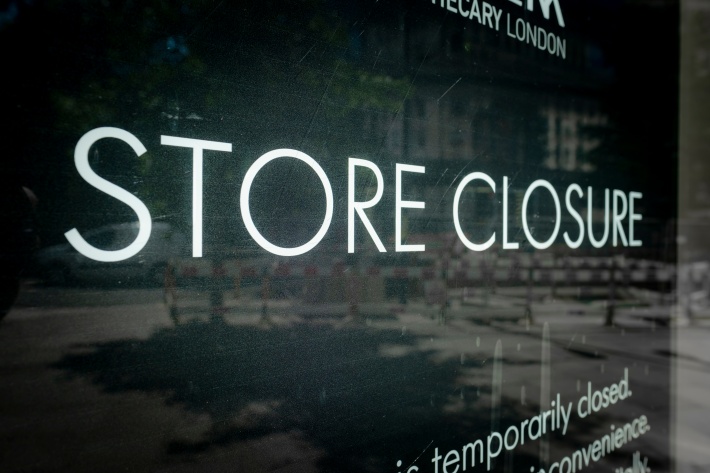 30 April 2021
As we tentatively prepare for a post-Covid world, the re-opening of non-essential shops on 26 April represented another big step towards much-needed 'normality'. Over 70% of shoppers say they planned a quick return to the high street, but this pent-up demand for retail can't hide the fact that things will be different.
Hall Morrice business development director Mike Innes looks at the impact which changes in shopping habits will have for independent retailers.  
Adjusting to new ways of shopping
Today's consumer is a very different animal to the 'carefree' shopper of just over 12 months ago. A year of lockdowns has only served to accelerate what many have seen as the inevitable, as more of us embrace online shopping as 'the norm'. Time will tell whether this is a temporary development or whether online is the default when it comes to making those non-essential purchases. But for the high street retailer, the key challenge now is to remain competitive whilst giving the consumer a clear reason why physical shopping has the edge over the more isolated digital experience.
The physical shop environment also has to take into account the Covid-weary shopper and their understandable safety concerns. As the UK's vaccine programme continues a pace and the roadmap to recovery unfolds, there are still signs of hesitancy amongst the general population.  While just 2% of shoppers interviewed by marketing agency Gekko, said they were not yet ready to go back into a shop, 86% surveyed said they didn't want to return to shopping as before.
The challenge of social distancing
With the world slowly opening back up after a long lockdown winter, it's clear that for the immediate future, at least, social distancing is here to stay as we continue to adjust to life post-Covid.
Even for the large high street retailers, a reduced footfall due to social distancing measures will inevitably hit their bottom line. And for smaller, independent retailers, creating a meaningful retail experience while adhering to social distancing in a restricted shop space is a significant hurdle to overcome.
But with a consumer appetite to support the high street and a desire to return to the physical pleasures of browsing and trying a product, this new era for retail also has its opportunities for retailers prepared to adapt.
Adapting to the 'new retail normal'
Despite non-essential retail opening on 26 April with its expected initial uplift, many believe that there will be a delay in any significant retail 'splurge' until the vaccine programme has covered the majority of the population, most likely this summer. If correctly predicted, this gives retailers more opportunity to adapt and fine-tune their in-shop experience.
For their long-term survival, high street retailers now need to be agile, creative and ahead of the game. And this means looking at new strategies to maximise income on a potentially reduced footfall, as well as keeping their customers safe.
Key strategies for welcoming back customers
As a starting point, any independent retailer should be creating a shopping space that gives their customers something that they can't get online, as well as recognising the importance of the personal experience.
Get your Covid measures right
One year on, and retail is well adapted to the essentials of Covid safety measures. Research has shown that consumers are more open to retailers who have the current safety and hygiene measures in place and are willing to adapt to further recommendations and precautionary measures as they become available. The skill is to ensure Covid measures are enforced within the shop without it becoming a barrier to what should still be an enjoyable retail experience.
Listen to your customers 
Taking time to understand your customers' expectations and concerns will help you to tailor services to your target market. And this means you may need to widen your offering and how it's accessed by your customers. Extended opening hours, click and collect services, private shopping appointments, personal shopping, home delivery…many of the tactics adopted by retail during lockdown can be adapted and improved to encourage more shoppers through your door.
Build on the shopping experience
With social contact limited for over a year, there is an appetite for engaging with others and this is a real opportunity, especially for independent and smaller retailers. As restrictions ease, planning for a return to in-store events, promotions and personal shopping experiences can reignite the social aspect of shopping and create more opportunities to encourage customers back into your store.
Enhance your online presence
If you have a web presence, then re-visit your website to ensure it is not only aligned with your business as it currently stands but adds extra value for your customer. Consumer digital habits are here to stay, so make them work to your advantage by offering extra services, ordering and tie-ins to give your customers a seamless and value-driven experience. Creating an e-commerce platform, for even the smallest independent retailers will be invaluable.
The full return to physical retail will not happen overnight but consumer confidence is returning. And while this is an unprecedented time for the high street, this pent-up demand for more social and personal shopping experiences means there's light on the horizon and a chance for both large and small retailers to plan not just to survive, but ultimately to thrive.
← Back to News & Articles