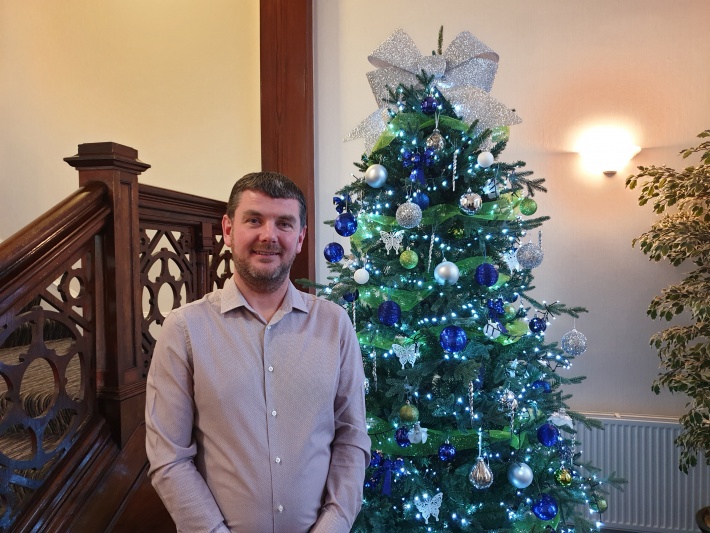 16 December 2019
Trio of charities reap rewards of Christmas cash boost from Hall Morrice 
A hat-trick of charities have enjoyed a festive windfall after receiving a share of £3,000 from Hall Morrice. Aberdeen FC Community Trust, Mental Health Aberdeen and Charlie House have each received £1,000 from Hall Morrice in the seasonal gesture.
Business development director, Mike Innes, explained: "We wanted to make a meaningful impact in the North-east, so we're supporting these deserving charities. Each makes a real difference to people's lives in the region where our staff and clients live and work.
"By donating to them, we're able to help them continue their sterling work, and work towards their goals. It's a sustainable and community-focussed way of making a difference through our Christmas giving."
Mental Health Aberdeen will use its donation to provide additional counselling sessions to support mental wellbeing at a time when many people struggle with their feelings.
The charity, which provides counselling and advice services to adults and young people living in Aberdeen and Aberdeenshire, will turn 70 next year, making it one of the oldest charities working with people experiencing mental health difficulties.
It is experiencing an unprecedented demand for services as people feel more able to open up about their feelings and anxieties.
MHA fundraiser Jamie Gordon said: "This is a very kind gesture from Hall Morrice and great news for us, coming just before Christmas, when many people struggle with worries.
"We'll be able to put this sum to use right away, by offering additional frontline services like counselling to try and meet the demand and support people at their time of need."
Charlie House's £8million campaign to build a children's hospice in Aberdeen comes nearer, with its festive fillip from Hall Morrice. It has £2.4million donated and pledged of the £4million needed before it can break ground.
With no facility of its kind in the region, the new hospice will support babies, children and young people with complex disabilities and life limiting conditions in North-east Scotland.
Nicky MacBeath, digital marketing and communications officer for Charlie House, said: "Every donation takes us a step closer to our dream, and we're absolutely delighted to have received this support from Hall Morrice.
"Having a hospice in Aberdeen will make such a difference for families. We've identified 1600 families in the North-east who could potentially benefit from this facility, so its impact will be massive."
Aberdeen FC Community Trust is relocating from its home at Pittodrie to the new Cormack Park in 2020 and will use its £1,000 donation to deliver outreach programmes there.
These are accessible by a wide range of users, and includes promoting footballing skills to youngsters, walking football in support of active ageing and dementia friendly activities like football memory sessions.
The Trust's Debra Christie said: "This is an absolutely fantastic donation that will support us in the delivery of programmes at Cormack Park, at a significant time of change for us."
← Back to News & Articles