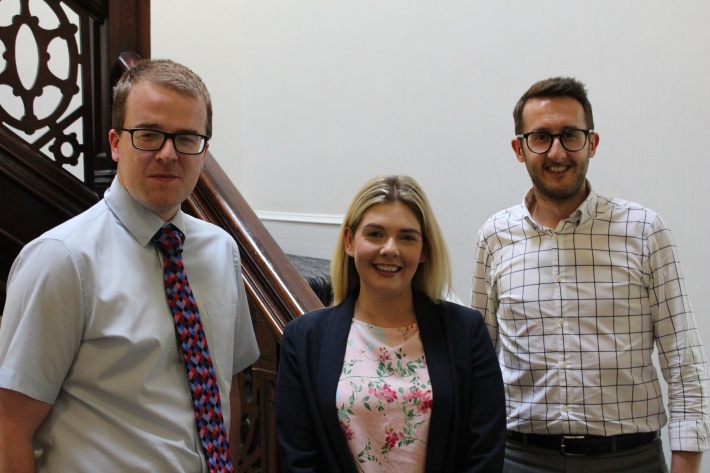 10 July 2019
Trio of staff from Hall Morrice named among 2019's Top 100 Young CAs
Three talented young accountants from Hall Morrice LLP have been recognised as some of the brightest in the industry after being named in 2019's Top 100 Young CAs list. The trio – Melanie Clark, Richard Stephenson and Peter Cowan – were identified as being leaders amongst their peers by The Institute of Chartered Accountants Scotland (ICAS).
It is the second year running that Melanie, a director of Hall Morrice Corporate Finance, and senior audit and accounts manager Richard, have made it onto the list, but this was the first time for Peter, who only recently qualified as a CA.
Professional body ICAS selected the list from thousands of applications and looked for young accountants excelling in their chosen fields. In particular, judges were looking for entrants who could show how they were helping to develop technology, to re-establish public trust in the profession, or who displayed all-round talent.
Melanie (30), who was named Accountant of the Year in the 2018 Scottish Accountancy and Finance Awards and Rising Star in the Northern Star Awards, helped to launch the corporate finance offering. She has worked on many high-profile deals, including a recent transformational multi-million private equity investment for Motive Offshore.
Richard (32) impressed the panel with the way he has helped clients embrace the challenge of Making Tax Digital for VAT – the move by HMRC to online submissions – and for the leadership that he showed in rolling out a departmental restructure. He has quickly risen though the ranks, and mentors many of the firm's graduates.
Peter (26), who is a senior analyst, was singled out because of the outstanding service he delivers to clients. He is already showing ability beyond his experience, excelling in building client relationships, and despite being recently qualified himself, is proving to be an excellent coach for the firm's current students.
Hall Morrice partner Shonagh Fraser said the trio's inclusion in the list of 2019's Top 100 Young CAs again underlined the importance the firm places on training and the professional development of its staff.
She added: "To have three members of our team named on a list of just 100 CAs from all over the UK – from both industry and from general practice – is an outstanding achievement. This demonstrates that Melanie, Richard and Peter do not only have the solid technical skills needed to excel as an accountant, but a wider understanding of what it takes to succeed in the profession and in business.
"We are delighted that three members of our team have been recognised in this way. We may be a mid-tier firm, but the investment we make in developing our people is significant and goes beyond other firms of a comparable size. Our recent awards success has shown that the time, energy and effort we have placed on career development is paying dividends."
← Back to News & Articles